Beauty Bargain Finds
I scoured beauty stores for beauty staples I can buy without breaking my budget. I'm running out of sunblock and I need new foundation formulas because I'm road testing my beauty blender. Here are my finds:
Beauty products from the Face Shop
The Face Shop has always been my go-to store for affordable yet effective skincare and makeup products.
Being a sunblock/sunscreen junkie I absolutely need to have sunblock in my regimen. I can even skip other day creams in the morning as long as I can slather on sunblock. It serves as my sun protection, makeup base and moisturizer in one. The Natural Sun Super Perfect Sunblock with SPF 50 PA +++ (P475) is a moisturizing, non-greasy sunblock that gives me great protection without the white cast. It feels light on my skin but it's moisturizing enough so that I don't break out in dry patches while working in an air conditioned room for long hours. It also helps keep my makeup intact.
Meanwhile, the Lovely M:ex Angel Skin Foundation (P495) is a lightweight foundation suitable for sensitive skin and leaves a soft matte finish. It covers imperfections such as redness and minor spots effectively without looking cakey. I use the NB 21 shade and it does not oxidize on me. However, it may only be suited to girls with light to medium skintones as it only comes in two shades.
Moisturizing soaps
As I get older I learned to appreciate moisture because I want to keep my skin soft and smooth. Lately, Dove cream bar (P50) has been indispensable in my bathing routine as it cleanses and moisturizer my skin at the same time. I also use it prior to shaving my legs and it leaves my skin soft without shaving irritations. I don't need to use lotion afterwards as I'm not fond of slathering extra body moisturizers especially when I'm always on the go. How I wish Dove would also offer a whitening body bar! In the meantime, I use Belo Smoothing Body Bar in pink, with exfoliating beads and whitening properties, to brighten my skin.
Facial wash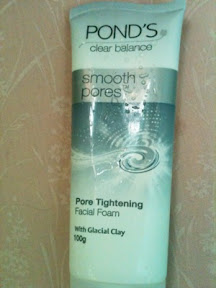 Ponds recently came up with Clear Balance Facial Foams and Scrubs meant to target specific problems such as oily skin, large pores, blackheads and pimples. All of them have kaolin in their formula for deep cleansing. The blue one is for oil control, the green is the antibacterial facial scrub, the yellow variant is for blackheads, and the gray is for pores. I'm not a fan of facial scrubs so I opted for the smooth pores variant. The pore tightening facial foam (P140) has a combination of alpine glacial water and kaolin to remove dirt, oil and makeup. It does a great job of cleaning my face without over drying my skin. It also has menthol for a cooling effect which is always refreshing after a hot day (can't believe it's almost December yet the weather is still hot!) as for tighter pores, it does provide a tightening effect but it must be supplemented with other products to achieve better results.