Review: Majolica Majorca Skin Remaker Pore Cover SPF 18
I have stayed away from powder foundations for quite some time now ever since I discovered liquid foundation; although I'm oily,according to a Shu SA skin should not be completely matte, so I learned to love liquid foundations which give off a semi-matte or dewy finish. I did try out MAC studio fix, but I wasn't really using it anymore because while it gave great coverage, it was too matte and heavy for everyday use, even in the office, and I'm just using it dry... Smashbox Halo is great, but it doesn't cover my pores. So I knew I had to try another powder foundation.
Enter Majolica Majorca's Skin Remaker Pore Cover:
Who doesn't love the case? It's great because of the refills, just like other high-end powder foundations such as Shu, Paul & Joe, etc.
I purchased the shade BO 10, because of my NC 20-25 skin right now, and OC 10 looked a tad more yellow. Still, BO 10 is a bit darker and more yellow on me, but it's not very noticeable.
Coverage is buildable; can be sheer to medium to full, depending on whether you use it wet or dry, brush or sponge. I like using a powder brush with this one and it gives me the coverage I need in one swipe. I can layer and layer and it doesnt look unnatural. I tried using the sponge, and it gives a more matte and powdery finish. I also tried using a wet sponge and the finish is natural and flawless.
The texture is so smooth, and the powder just glides into my skin, lke silk. No caking, no matte-heavy look or feel. The finish is natural, flawless and even. Best of all, it hides pores, redness, dark spots and other imperfections, even minor blemishes. Larger pimples require the use of concealer.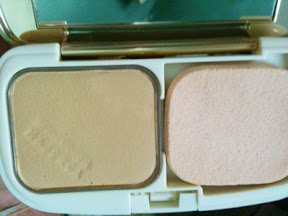 What I like about it is it gave a really clean look, and it has excellent oil control. It's not a flat-out matte; it looks very natural. I blotted once or twice during the day. And it stays on and on for more than 8 hours, until I took it off. Talk about long-wearing! I also tried using it and staying out in the sun and heat and it still stayed on beautifully until I took it off. No blotching or uneven patches. And it doesn't feel heavy at all. I daresay I like this one better than MAC studio fix. It's much cheaper too. Refill costs Php 895. So far, I didn't have irritations or breakouts while using this. SPF 18 is a huge plus, though it isn't sufficient, and I always use sunblock anyway before makeup. It's practically my makeup primer.
Overall, I really really like this powder and I use it everyday. It gives a natural, clean look, it's long-wearing with minimal touch-ups, and it restored my faith in powder foundations. I think Majolica Majorca has an ongoing promo right now on the Skin Remaker Pore Cover---you can get the case and the refill for only Php 1050. And it lasts for the whole month of May! It's definitely a steal. :)
This is currently my staple powder foundation; It makes me look polished and natural. I can't think of any cons right now, except for the limited shade selection. If you're too fair or too dark then you might have a problem matching with the shades. But then, it is suited for Asians so the current shade selection can still match or blend with a wide range of skintones.
- Posted using BlogPress from my iPhone