Review: Shu Uemura Face Architect Smoothing Fluid Foundation
It's priced at Php 2250 at Rustans and I got the shade 764: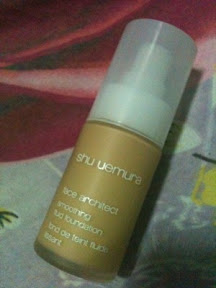 I bought this primarily for the shade match. For Asian skin, it is better to stick with Japanese and other Asian brands as they have a much better undertone match. The shade 764, which is described as a medium-light beige with neutral yellow undertones, is closest to my skin.
For those unfamiliar with Shu foundation numbering system, look at the first digit:
For the second digit, the higher the number, the lighter the color, i.e., 754, 764, and 774, which is the lightest of the three. Back to the product, it does not oxidize on me, which is always a good thing!
The texture is not too runny, not too thick. It still spreads easily though. Coverage is sheer to medium and it leaves a semi-matte finish. (I've stayed away from matte foundations already after I learned from the Shu SA that the skin is not naturally matte, therefore natural, healthy skin should be clear and dewy).
Comparison: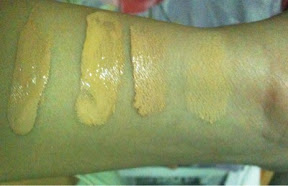 From left:
L'Oreal True Match in Golden Beige, Shu Face Architect in 764, Revlon Photoready Compact in Shell, Mac SF powder in NC30
Pros:
Good match for Asian skins,

Covers pores well,

oil-free and does not cause breakouts,

stays color-true;

has a nice mild scent (which is okay with me--a bit of fragrance is always good and I don't get allergic to scents),

a little goes a long way,

It is smoothing. yes, that part is true. I had bumps on my face and when I applied this foundation, it really 'smoothes' the area out, making the bumps invisible.
accentuates dry patches, so those with dry skin could probably benefit more from the illuminating variant of the face architect;

does not cover dark spots or acne marks, still need a separate concealer;

wear is average (around 6-7 hours);

no SPF

not good for flash photography -- for some reason it emphasized pink undertones in my skin.
Overall, this is a solid foundation which I will keep using, again because of the excellent color match and the semi-matte finish, but it's not my HG. This is much suited for people with oily skin or for people with relatively good skin and only need light to medium coverage.