The Mac 187: is it worth it?
Sure, it's the most popular brush from Mac, but is it really worth splurging for?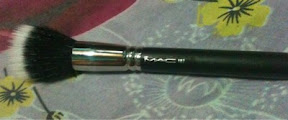 You need this if you:
-tend to apply products with a heavy hand,
as this brush diffuses color and other pigments, for a more subtle effect. So it's great if you like pigmented products but you want a subtle application of color.
-like to stipple your foundation
. This is a dual-fiber stippling brush, so if you want that pixelated, airbrushed finish for your foundation, this is the product to go to.
-you need a multitasking brush.
As I've said this works with creams, liquids and powders and provides a sheer coverage so this brush can deliver all that.
-you like quality brushes
. if taken care properly, this brush can last for many many years.
You don't need this if you:
-like to buff your foundation.
Again, you are not making the most out of this brush if you're using it to stipple then you blend or buff it all over. It's designed for stippling and that's it. You need to master the technique first. Some people complain that it takes too long to stipple foundation, but once you get the hang of it, it's going to get better.
-like heavier application of products.
-you can't afford to buy such an expensive brush.
yes, it is expensive. And there are a lot of dupes out there already that claim to do the same thing as this one.
Personally, though, I purchased this brush because of the quality. I've tried the dupes and I swear they don't even come close to the quality and performance of this brush. The 187 has a dense, even, and firm head, but is very soft---the natural hairs support the synthetic brush hairs very well. Other dupes are just too soft, plus, they wear out and shed a lot just after one or two years. This is also my preferred brush for applying foundations with a watery or runny consistency, it gives me a flawless look everytime. To me, this is well worth the investment.
Posted using BlogPress from my iPhone